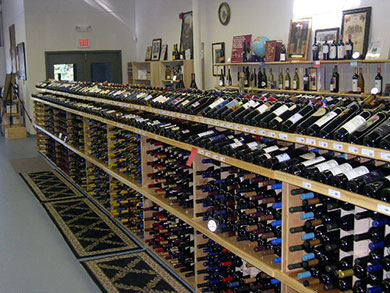 If you have ever ordered wine racks online before, you know most racks arrive as a kit that you the customer must spend hours to assemble.
   Our racks arrive fully assembled ready to receive bottles.
Pigeon Hole Wine Displays
Many liquor and wine retailers prefer the clean lines of pigeon-hole style racks for wine bottle storage. As with all of our wood wine rack systems, we offer pigeon hole wine racks in a variety of wood grains and finishes.
The pigeon hole wine racks have a high storage capacity - our standard island unit is only 45" wide yet it accommodates 44 facings and 264 wine bottles total. Our pigeon hole wall units are the same width but increase in height to 102" and increase wine bottle capacity to 363 bottles.
If you prefer the pigeon hole look for your custom wood wine racks, please fill out our wine rack contact form or speak to one of our wine store specialists at (386) 302-0396.
---