Ultra Span Shelving
What is Ultra Span Shelving?
Ultra Span is the combination of Kent's Wide-Span Shelving and their adjustable Gondola Shelving. This combination allows you to store cases of wine or liquor on top of your display area. The top decks are flush with the display shelving, allowing a flat surface for maximum storage space. Your top stock can now be used as a display tool.
How Strong Is It?
Like all of our products, this shelving is manufactured by Kent Store Fixtures to the highest commercial standards. It incorporates 14 gauge uprights and beams, which allows heights up to 10 feet and lengths up to 8 feet per section, with load capacities exceeding 2400 pounds.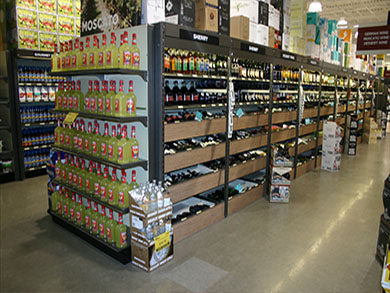 This Ultra Span Shelving has been upgraded with our Wine Box System to provide more bottle storage in the display area and a more upscale look.
What Options Are Available?
Ultra Span Shelving is also highly customizable - it can be used for a warehouse look or upgraded for a high end wine store appearance by adding features such as our new line of lighting hoods, laminate accents, and our Wine Box System.
If you need the flexibility of storing cases of wine or liquor on top of your shelving and displays, please contact one of our wine store specialists at (386) 302-0396 or fill out our store design information form.
---