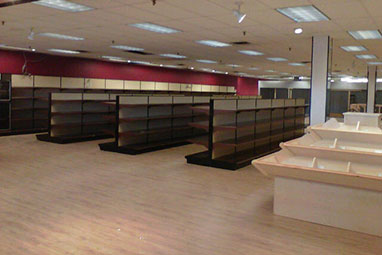 This unstocked traditional liquor store features our Gondola Shelving for liquor and a Wine Boat for wines.
Traditional Liquor Store Design
A traditional liquor and wine store caters to a more general clientele, offering a broad selection of popular liquors, beers and wines as well as mixers and snacks. The general design and layout of a traditional liquor store is similar to what you would find in a general retail or convenience store.
Elements of a typical traditional liquor store design include:
Emphasis on liquor and beer sales with varietal wines and little or no fine wine.
Regular gondola type shelving with middle runs ranging in height between 48" and 72".
gondola style wall units ranging from 84" to 96" high.
CVS style checkout counters featuring a wall behind the counter selling half pints, nips, etc.
Lots of case stacks or cut cases on the floor in lieu of end caps.
---