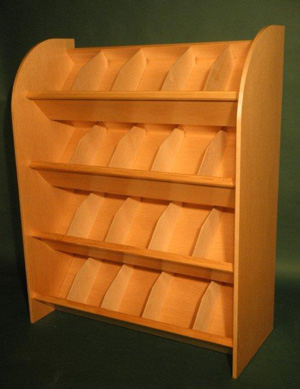 Our very popular HM4x5 wine rack
Wine Racks
Our HM4X5 wine rack is one of our most popular wine displays. This wine rack can be shipped assembled or shipped knockdown style to save on shipping cost. The rack is manufactured from clear birch veneer plywood and finished with clear lacquer.
This wine rack will hold 168 750ml bottles, or 14 caes of wine. The dimensions are 48" wide, 62" high, and 24" deep. Many of our customers will purchase two and put them back to back to create a two sided aisle.
We also have a wall version, the HM4X8, which is 96" in height and holds 340 750ml bottles.
Please call us at (386) 302-0396 or contact us online for more information about this or other wine displays.
---