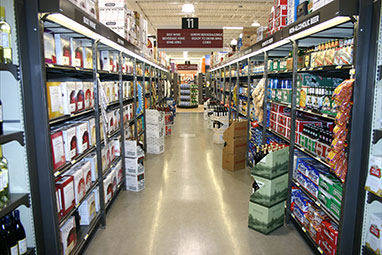 This warehouse-style liquor store features our Ultra-Span Shelving.
Warehouse Style Liquor Store Design
A warehouse or big box liqour store will typically be a freestanding structure with a much larger floor plan and a simpler design. Consumers are usually attracted to a big box store for their large selection, overall quantity as well as discount pricing compared to a traditional or boutique liquor or wine store.
Elements of a typical warehouse style liquor store include:
Large square foot stores with different departments for wine, liquor, beer and food.
Wide span shelving is the industry standard for warehouse-style liquor stores and allows overhead storage on the retail floor
For a more upscale look and to allow options such as lighting and laminate accents, you can upgrade your wide span shelving by adding gondola shelving - a combination we call ultra span shelving
For wine areas we recommend adding our wine box system - this allows lay down bottle storage and a most upscale look in a warehouse setting>
Pallet racking for large volume /weight items such as cases of beer and liquor
Numerous checkout counters, customer service desks, wine tasting areas, gift areas, humidor room, etc.
---